What is Mid Market Rent?
Mid market rent (or MMR) is an initiative from the Scottish Government to provide quality, affordable homes for low to moderate income households. MMR tenants are typically those who would not qualify for social housing but cannot afford to pay market rent or buy a property.
What MMR homes are available?
Westscot Living, a subsidiary of West of Scotland Housing Association, will manage our planned mid market properties. Details of our planned upcoming developments are as follows: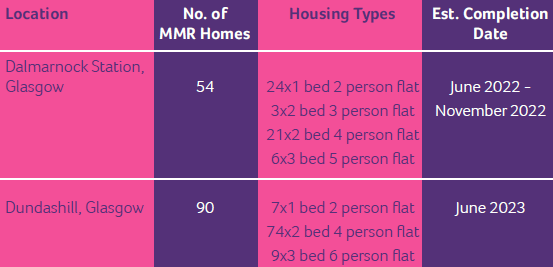 Am I Eligible?
Our mid market rent homes will be let to applicants that meet the eligibility criteria below:
Applicants' must be on 'low to moderate incomes' with a gross annual income that is not outwith the income thresholds set for the development. For our Dalmarnock homes, households must have a gross annual income within the minimum and maximum threshold:
Income Threshold
Minimum - Annual rent should not exceed 35% of gross annual income
Maximum - £42,000 gross annual income
Applicants must be able to evidence that they can afford to pay rent in full. Please note that tax credits and other benefits can be included as part of your income. If you receive a pension you are still eligble as long as you can meet the afforability criteria and can evidence your pension.
Where an applicant is economically active (is working or has an offer of employment) but their salary is below the income threshold, exceptions may be made in appropriate circumstances at the discretion of the Housing Manager. For example, where an applicant who has a disability does not meet the income criteria and their current housing costs are unaffordable (for instance in the private rented sector) or their current housing is unsuitable to suit their needs, discretion may be applied. In these cases, other benefits will be considered and included in the household income calculation used to assess eligibility.
Would I have any priority?
If you meet the Income Criteria your application will then be assessed further by the agreed priority Criteria. Further details on any priority criteria will be sent to all interested applicants prior to completing the application form.
Will I have to pay rent a month in advance?
Yes, one monthly rent payment in advance will be required prior to taking entry. This means that you will be paying your first months rent before you move in.
Will I have to pay a deposit?
Applicants will be expected to pay the equivalent of one and a half month's rent charge as a deposit in addition to their first month's rent in advance. For each pet the applicant has, such as cats or dogs, the applicant will be required to pay an additional £100 deposit.
The Housing (Scotland) Act 2006 made provision for the implementation of a Tenancy Deposit Scheme in Scotland and in March 2011. The Tenancy Deposit Schemes (Scotland) Regulations 2011 came into force which places a duty on landlords, who receive a deposit in connection with a tenancy, to protect this deposit with an independent third party. From 2 July 2012 landlords are required by law to protect this deposit by transferring the funds to the Approved Scheme.
How Much is the Rent?
The rent that will be set will be in line with the Local Housing Allowance (LHA). Please see below for rent level until 31st March 2023.
| | |
| --- | --- |
| Property size | Proposed rent (£)(annual / monthly) |
| 1 bed | £5923.84 / £493.65 |
| 2 bed | £7778.64/ £648.22 |
| 3 bed | £8975.16/ £747.93 |
Rents will be reviewed annually and, after the first year, other charges associated with the management and maintenance of the development may be charged. Tenants will be given 3 months' notice of any changes to your rent and/or other charges.
What type of tenancy agreement will I have?
You will have a Private Residential Tenancy.
The Private Residential Tenancy (PRT) was introduced by the Scottish Government as the standard tenancy agreement for private residential tenancies created on or after 1st December 2017.
The purpose of the PRT is to improve security, stability and predictability for tenants and provide safeguards for landlords. PRT tenancies are open-ended, meaning no initial fixed-term.
The process for ending tenancies has been simplified; tenants are required to give 28 days' notice regardless of how long they have been in the property.
Can I decorate?
All homes have been finished to a high standard. It is your responsibility to maintain the décor to the standard that it is let to you.
You will not be allowed to paint and/or wallpaper the walls or change the flooring. You can accessorise the flats by putting pictures on the walls, hang your own curtains etc.
Is the home furnished?
The homes are let as unfurnished; they have been fitted with white goods including a tall fridge freezer, a washing machine, a cooker and shower. A good quality vinyl will be provided in hall, kitchen and kitchen/living if open plan and bathroom. All bedrooms will be fitted with carpets and all windows will have been fitted will blinds.
Will my belongings be insured?
Only the items provided by Westscot Living will be insured. It is your responsibility to protect your belongings and therefore we would strongly recommend that you insure your belongings.
Who is responsible for maintaining the property?
Westscot Living, as landlord of your property, is responsible for the ongoing maintenance. Full details of our and your repairs responsibilities will be issued to you as part of the allocation process..
Will I be allowed to keep a pet?
You must apply for permission to keep a pet. You will have to pay an additonal £100 deposit for prospective tenants who have pets. This is common practice in the private rented sector.
Can I view the home before signing my tenancy agreement?
You will be invited to a viewing once your application has been fully assessed and an offer letter has been issued. This will give you the chance to view your home before signing any agreement.
How do I apply?
Our homes will be allocated on a first-come, first-served basis to those that meet the eligibility criteria. To register your interest please complete the form and we will be in touch when we are accepting applications.
We will confirm you meet the eligibility criteria and will get in touch with you to ask for evidence and any other information we need to process your application. Once we have processed your application we will be in touch to confirm next steps and timescales.
Your application will be assessed based on the following factors:
Your household size compared to the size of the property
Your current accommodation status and suitability
Your Income and Outgoings – assess your ability to sustain a tenancy financially. (A copy of a P60 and/or three months wage slips (13 weeks if weekly paid), copies of three months bank statements/utility bills (this saved having to carry out credit checks)
Your References – we require a satisfactory reference from your current landlord and/or current or confirmed new employer